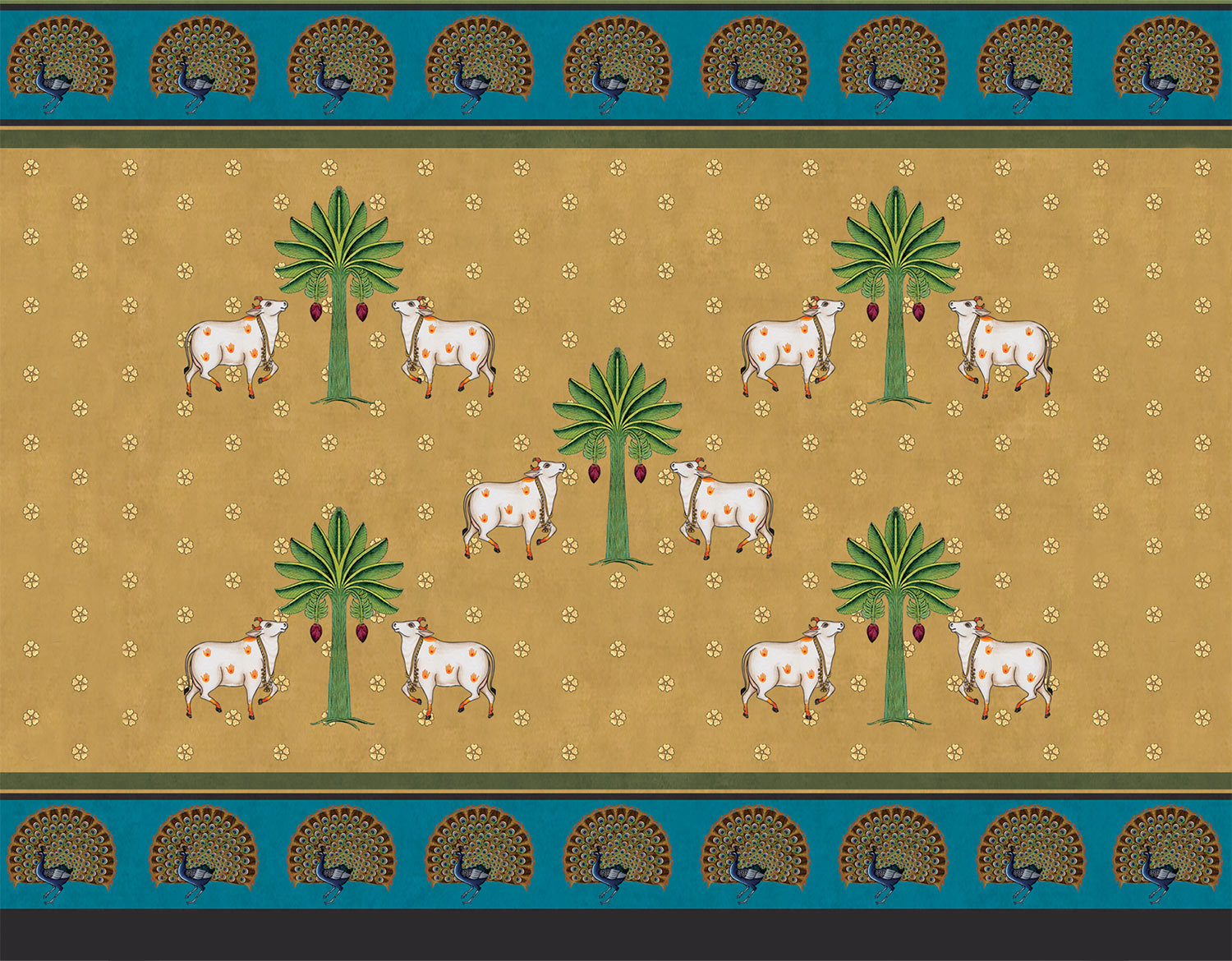 Frequently Asked Questions
What is the meaning of Pichwai?
Derived from Sanskrit, 'Pichwai' literally means 'displayed at the back'. The word comes from 'pichh' meaning 'back' and 'wai' meaning textile hanging.


What is Pichwai art?
Originated over 400 years ago in Nathdwara, Rajasthan, India, Pichwai is a miniature form of art depicting the tales from Lord Krsna's life on a starched cotton cloth. With minute intricacies and lot of precision, the decorative cloth is painted and embroidered showcasing Lord Krishna as a seven-year-old child, Shreenathji.


What are the different types of Pichwai?
There are broadly two categories of Pichwai – Decorative and Narrative. Decorative Pichwais are woven and used in winters and spring season, while narrative Pichwais depict various festivals and 'Leelas' of Lord Krishna, painted and used in summers and fall.


What inspires the creation of Pichwai?
The main source of inspiration for Pichwai is the 'Haveli Sangeet', the devotional music sung during the eight darshans in a day at 'Shreenathji ki Haveli' in Nathdwara, Rajasthan. These devotional hymns or what the head priest narrates to the artists is replicated in the form of sketches and painted on the cloth, giving the Pichwai art its identity.


What is a Pichwai Paithani Saree?
A form of weave, Paithani is a part of Maharashtrian textile culture which is passed down from the mother to the daughter at the time of her marriage in the form of heirloom. Paithani sarees are characterized by oblique square design on the borders and a peacock on the pallu. Pichwai Paithani is a beautiful amalgamation of Pichwai art and Paithani weave with artistically handwoven cows and lotuses woven into the sarees, innovated by Label Pratham.


What is a Pichwai Ajrakh Saree?
Ajrakh is a unique form of textile block-printing found in Kutch, Gujarat, and Barmer, Rajasthan. Combining this block printing technique with Pichwai art, Label Pratham created the beautiful Pichwai Ajrakh on fabrics like tussar linen, organza etc.


What is a Jamdani Pichwai Saree?
Jamdani Pichwai saree is an elegant admixture of Jamdani, a hand-woven technique from West Bengal, and Pichwai art from Rajasthan, created by Label Pratham. Jamdani takes the form of cotton and gold colored thread weaving in various geometric patterns and floral designs on cotton or silk sarees.


What is an Aari Pichwai Saree?
Aari Pichwai sarees are the graceful fusion of Aari embroidery from the craftsmen of UP and the traditional Pichwai art, by Label Pratham. Aari embroidery uses a pen like needle over the fabric which is stretched tightly over a wooden frame to work upon. Popular for its fine and delicate thread work, the motifs of Aari embroidery are derived from nature and are one of the most time-consuming thread works.


What is an Ahir Pichwai Saree?
Ahir is one of the tribes of Kutch region of Gujarat, and these rural women found their own distinctive style of embroidery which became prominent as Ahir embroidery. This embroidery is the work, leisure, creativity, skill and pride for the rural women of Kutch and revolves around the prolific use of mirrors, floral designs, parrots, and peacock in its motifs. Each stitch and motif of Ahir embroidery has a specific name. Label Pratham blends this archaic embroidery with its iconic Pichwai art in Ahir Pichwai sarees.


What is a Batik Pichwai Saree?
Batik is an ancient technique of wax-resist dyeing on fabric to create elegant and intricate patterns and designs. First, a piece of cotton or silk fabric is stretched on a frame, and then a design is painted or stamped on it using a mixture of beeswax and resin. Batik artisans create repeating patterns on the fabric using a single hand-made stamp. Then, the dye is painted on the fabric between the intricate wax pattern, and is set by soaking the fabric in a fixative. The fabric is finally boiled to remove the wax and reveal the original fabric color along with the new layers of design. Label Pratham compounds this dyeing technique with its exemplary Pichwai art on Batik Pichwai sarees.


What is a Kalamkari Pichwai Saree?
Derived from a Persian word 'kalam' which means 'pen' and 'Kari' which refers to 'craftsmanship', Kalamkari is an ancient style of hand painting done with a tamarind pen using natural dyes. Kalamkari is basically an art of story telling on a fabric, practiced in Andhra Pradesh, that utilizes hand and block printing to create motifs like flowers, peacock, paisleys, and divine characters from Ramayana and Mahabharata. This venerable art commingles with classical Pichwai at Label Pratham in the form of Kalamkari Pichwai sarees.


What is a Kantha Pichwai Saree?
Kantha is a popular style of embroidery from the eastern states of India, West Bengal and Odisha. The artform is associated with Lord Shiva and revolves around the story of Shiva consuming the poison while stirring up of the ocean. Kantha embroidery comprises of running stitch and the ways it is used to create different geometric patterns. Label Pratham integrates this embroidery with its exemplary Pichwai art on Kantha Pichwai sarees.


What is a Hand-Painted Pichwai Saree?
Inspired by Pichwai art which is hand painted on the fabric of tussar linen or ghicha silk using fabric colours by various artists from different parts of India, Label Pratham displays its creativity and innovation in hand painted Pichwai sarees.


What is a Print Pichwai Saree?
Print Pichwai are the iconic sarees from the house of Label Pratham combining the traditional and contemporary techniques. Pichwai artwork & handwoven fabrics being the traditional aspects while digital printing & linen fabric make for contemporary parts. Various artists from Rajasthan & new age artists from Delhi, draw saree layouts using various motifs from Pichwai art, which are then digitally converted. These are then printed on fabrics. Sarees are then finished with frills & fencing using various handloom fabrics in Label Pratham studio to give the grace and ethnicity of Pichwai to the sarees. These sarees are also handpainted & hand emroidered in places to add an extra glamor. As per policy we do not mass produce any designs.


What is a Mata Ni Pachedi Saree?
Mata Ni Pachedi, also known as 'Kalamkari of North' literally means 'behind the Goddess', and is an impressive form of textile art with a central figure of female deity, and other arrangements placed in a grid with architecture-like insertions in the form of doors and archways. This artform, practiced in rural areas of Gujrat, combines free hand painting with hand block printing and materializes in Label Pratham studio as Mata Ni Pachedi sarees.


What inspired Label Pratham to get into Pichwai sarees?
Since ages, Pichwai art was relegated to Shreenathji's temple at Nathdwara, inhabiting the walls of the temple as a backdrop to his Swarup. However, in 2014, when the founders of Label Pratham, Prashant and Shweta Garg, undertook a creative and spiritual journey to Nathdwara, it inspired them to create more awareness about this age old art form and expand this artistic tradition into a wearable form, to share with the world what they discovered and experienced in that holy city.


What's unique about Label Pratham's designs and sarees?
Stepping into the textile and fashion industry with Pichwai iconic print sarees, Label Pratham has evolved and merged this artform with other Indian weaves & crafts like Paithani, Ajrakh, Jamdani, Batik, and many more. Being the pioneers intransforming Pichwai art into wearable forms, Label Pratham believes in the virtues of authenticity and innovation with each piece of its collection.